Week 2 England Premier League
We have some cracking games this week in England Premier League. We have our 1st ever Friday night game which is not due to bank holiday. Aston Villa host Man Utd and we are siding with Aston Villa here with a big handicap at home. Click here for an in-depth look at the game and why Aston Villa rate our interest at +0.75
At St Marys two strong "2nd tier" sides go head to head as Everton make the long trip south. Ronald Koeman is definitely on the right track here and Saints are building to last in my opinion. Southampton was a bit shaky on opening day in a 2-2 away draw at Newcastle. They came on strong in the last 20 minutes or so but were happy with a point. Everton had a similar game. They were not playing as high tempo as usual and indeed were chasing Watford for a lot of the 90 minutes. Southampton at 1.95 or 19/20 (bet365) would be the play here but the odds look like they are about to drop!
Sunderland v Norwich looks like a relegation 6 pointer after 1 game with both sides on the receiving end in game 1. Sunderland were abysmal defensively but a central defence of Kaboul and Coates couldn't stop my Nan scoring and she's hardly the most mobile of people. They did regain some pride with 2 late goals and if they can keep Fletcher fit he and Defoe should rack up some goals. Draw is the best option for me here at 23/10 or 3.30 (bet365) although with these two defences Both Score Yes at Evens or 2.00 10bet is also a cracker!
Swansea host Newcastle in South Wales in an intriguing tie. Swansea gained absolutely no credit at all for scoring 2 and holding Chelsea at the weekend. They played really well and were tactically sound with new signing Ayew looking impressive. Newcastle looked ok in their own 2-2 draw as they opened the season with some decent looking signings and ex-England "wally with the brolly" Steve McClaren. We side with Swansea here at 1.95 or 19/20 with Corals.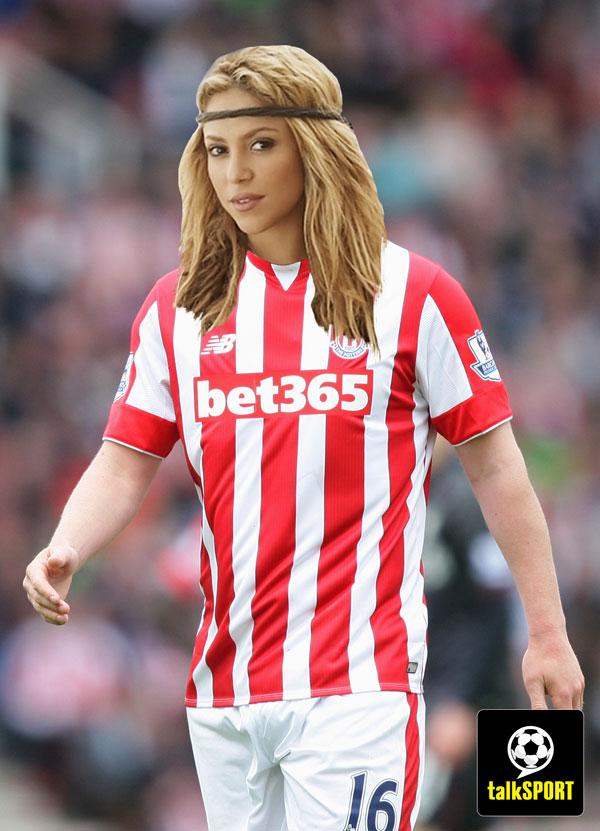 Spurs host Stoke in our headline tip of Saturday. We surprisingly take the visitors with a big stake. With Colombian singing sensation Shakira… Hang on with Swiss attacking sensation Shaqiri signed on they have an extra dimension to their play. They destroyed Spuds home and away last season and I see more of the same here. Click here to read more on Stoke +0.75
Watford v West Brom may not be high on everyone's Saturday football agenda but this one will be interesting to me for sure. I was impressed by Watford for long periods of their 2-2 draw with Everton. They attacked with vim and vigour for most of the game and look a huge side sure to be a danger at set pieces. They have a lot of foreign talent in their side and when they gel they could be a danger to most sides. West Brom has made a fantastic purchase in Venezeulan striker Soloman Rondon. He is not 100% fit at the moment but may take a place on the bench. The striker got 13 goals last season for Zenit and is an ever present for his Country. His unselfish running and harrying will appeal to Tony Pulis and he could be one of the signings of the season for just £12m. I will take Watford -0.25 at 1.85 or 17-20 at bet365.
West Ham v Leicester is the final Saturday match and few would have had these two sides to be on three points after game day 1. West Ham arrived at Emirates Stadium after stinking out Romania and Malta in Europa League. Losing to Birkirkara and Astra in successive games and leaving the tournament before it started was a blow. However it seems the whole thing was a Bilic masterplan as he suckered Arsenal into believing The Hammers were shit. Arsenal turned up thinking the game was in the bag but Bilic and his men ran off with the three points before anyone noticed. Leicester attacked with some verve in most of their 4-2 demolition of Sunderland. The Tinkerman (or Claudio Ranieri as he is known everywhere else in the world) showed what a terrible decision it was to appoint him as he had his Leicester side believing they were Brazil from the early 1980s for an hour. Riyad Mahrez was outstanding and was all over the park conducting the side. Goals are guaranteed here and Both Score Yes looks outstanding at 10/13 or 1.77 with 10bet.
Man City host Chelsea in what is by far the game of the weekend. We think Chelsea have the advantage over City even at this early stage and take the 1.83 or 5-6 about Chelsea +0.5. Read more here.
Liverpool v Bournemouth is a cracking game to end the programme with and we really fancy the Redmen of Liverpool to grab a high margin win at Anfield. Bournemouth looked good passing the ball around but in the end they were going through the motions of passing for the sake of it. LFC will be bouyed by another Coutinho wondergoal and the 4-5 on Liverpool -1 asian handicap looks good. Read why here.
Last remaining game to be analysed is Crystal Palace v Arsenal. I spent about 9 hours going over this game and it gave me an immense migraine. My head says Pardew will have his side ready to go again and they will cause Wenger problems. My heart says Arsenal easy with the return of Alexis Sanchez. Palace took apart Norwich and romped to a 3-1 win but had some assistance from the ref. Striker Jerome of Norwich scored an overhead kick but it was deemed foul play. How anyone is meant to score an overhead kick without lifting their foot of the ground is beyond me but they lost a goal at a vital time and it seemed to really affect the momentum they were building. Arsenal was awful in losing 2-0 at home to the Hammers but they did that last year in losing to Villa heavily and still finished like a train. Best bet here is the draw at 14-5 10bet.
No comments yet.
Post new comment
Error: Password fields must match, username must be between 4-12 chars, valid non-existing e-mail must be specified.